As always, topics for these entries are taken from the Top 5 Wednesday group on Goodreads . The group was created by Lainey, who you can also follow on Youtube.
Top 5 Wednesday: Biggest Badasses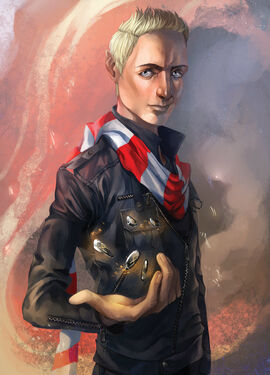 Hearthstone from Magnus Chase and the Gods of Asgard.
His character is one of the most amazing ones i've encountered lately in YA literature, he is a young and deaf Elf that decided to learn the ways of magic that were forgotten with time. He has a strong will as it is revealed later on Sword of Summer, which only made me respect him even more. He is loyal to his friends and very powerful, being the only magic user out there. You'll find out that nothing can stop this guy from getting to his goals. His complete story and what makes him such a badass is sort of spoilers from the book, so i'll just recommend you that if you hadn't the book yet, go read it!
Rose Hathaway from Vampire Academy.
Yes, the moment i read badass the first character i thought about was her. I think, Rose is one of the greatest badasses out there. From the beginning and even though she wasn't fully trained she was willing to give her everything to keep her friend, Lissa, safe from any danger. Full of heart, energy and loyalty to those she loves, Rose is without doubt, one of the biggest badasses out there.
Isabelle Lightwood from The Mortal Instruments.
I don't usually judge by appareance but even i have to admit that Isabelle Lightwood is something. Drop dead gorgeous and deadly, this girl taught us that you can be a badass while still looking good, and in high heels. Apparently loyalty is becoming a thing in my list, so i'll just stop commenting on that. Isabelle is a strong role model for kickass girl power. Fear her whip because she can be deadly while using it, also, i wouldn't recommend hurting her loved ones, she is fierce when defending her own.
Ronan Lynch from The Raven Cycle.
Ronan without a doubt, one of those bad tempered characters that are complete badasses and good at heart. Or not, maybe i'm reading everything wrong, i don't know. But with the amount of power Ronan has and the way he uses it, for me he is a completely badass and a total sweet heart. My heart is dying to read the final book of the series, and i really hope he really gets what he wants and he doesn't end up becoming a tree or something like that [not a spoiler only a comment made by me].
*art by Cassandra Jean, you can find her @cassandrajean.
Hermione Granger from Harry Potter.
Not only is she the brightest witch her age, but she has one of the strongest wills, always thinks ahead and wants to help those who deserve it. Hermione is clever, loyal, strong and willing to do pretty much anything for her friends. Also thanks to her character i learnt it's okay to read, to know stuff and apply yourself, there's no shame on that. She is my favorite female role from literature.
And there you have them, my top 5 biggest badasses, share yours in the comments!
'Til Next Time 😉
C.