As always, Reminising Monday is a section in which i talk about Books, Shows and Movies (and this time a musician and actor) i've read/seen (listened to/watched) a while ago but because of reasons i haven't talked about them in the blog before.
Here i'll review mostly from the feelings and impressions these left in me back in the day and what i can remember to this day.
And This Time I'll Be Talking About; just a minute before we get into it … let's explain a little…
You know how these days everything is Kpop this, Kpop that?
Well, back in my day and my life it was Jrock this, Jrock that (sometimes it was Jpop too).
If you don't know what Kpop is, well, basically it's a social phenomena conformed by Korean singers. A lot of groups, boy bands, girls bands, and especially BTS.
If you are wonder what Jrock is, well, it's basically the same but from Japan.
As the abid fan of Japanse things as i am and i already showed talking about anime, it was just a matter of time until i started listening to Japanese music, and i mean not only openings and endings from anime. I got into it, a lot. I got into Jrock mostly and Visual Kei especially.
Visual kei (Japanese: ヴィジュアル系) is a movement among Japanese musicians, that is characterized by the use of varying levels of make-up, elaborate hair styles and flamboyant costumes, often, but not always, coupled with androgynous aesthetics, similar to Western glam rock. [wikipedia].
Choose your poison… cute adorakable characters, dark freaks, they had it all.
I chose my poison, as i said already my favorite band is X-Japan. But as i was looking for more glam i found once a very peculiar band, or more like a peculiar person.
You can see these guys are Visual Kei material. Well, as i was listening to them and looking for more interesting photos of them i just fell for one of them.
Miyavi, or as he was known back in the day Miyabi. I just fell hard for him. And yeah, it's a him.
Miyavi has been one of my favorite artists for a very long time now. Let's say i started listening to his solo music (Due Le Quartz was disbanded a long time ago) when i was about 13 years old, which makes it about more than half my life.
Miyavi was the first solo Japanese artist i heard for the sake of it, non anime related and i gotta admit he had my heart just from listening to his guitar in Due Le Quartz.
There's something about him, to this day i just cannot shake him off my heart or my mind.
Ever since his days as a visual kei character he has changed a lot. I realize how much he sure has been through his life, although i only follow his career as a musician. I do know some personal stuff, like that he married and he has twins but i don't care much about it. I care about his music. The music i never stopped loving.
In my mind he is a kind of mentor (don't even ask me why) but i feel he did a lot in his day (now he is almost 40). I know he may have been into some shady stuff but i don't care. He is just this amazing musician his music i can't stop listening to, his voice i never get tired of.
I love everything he does, from his music to his acting career. Yes, i even love him as Byakuya in the Bleach Live Action.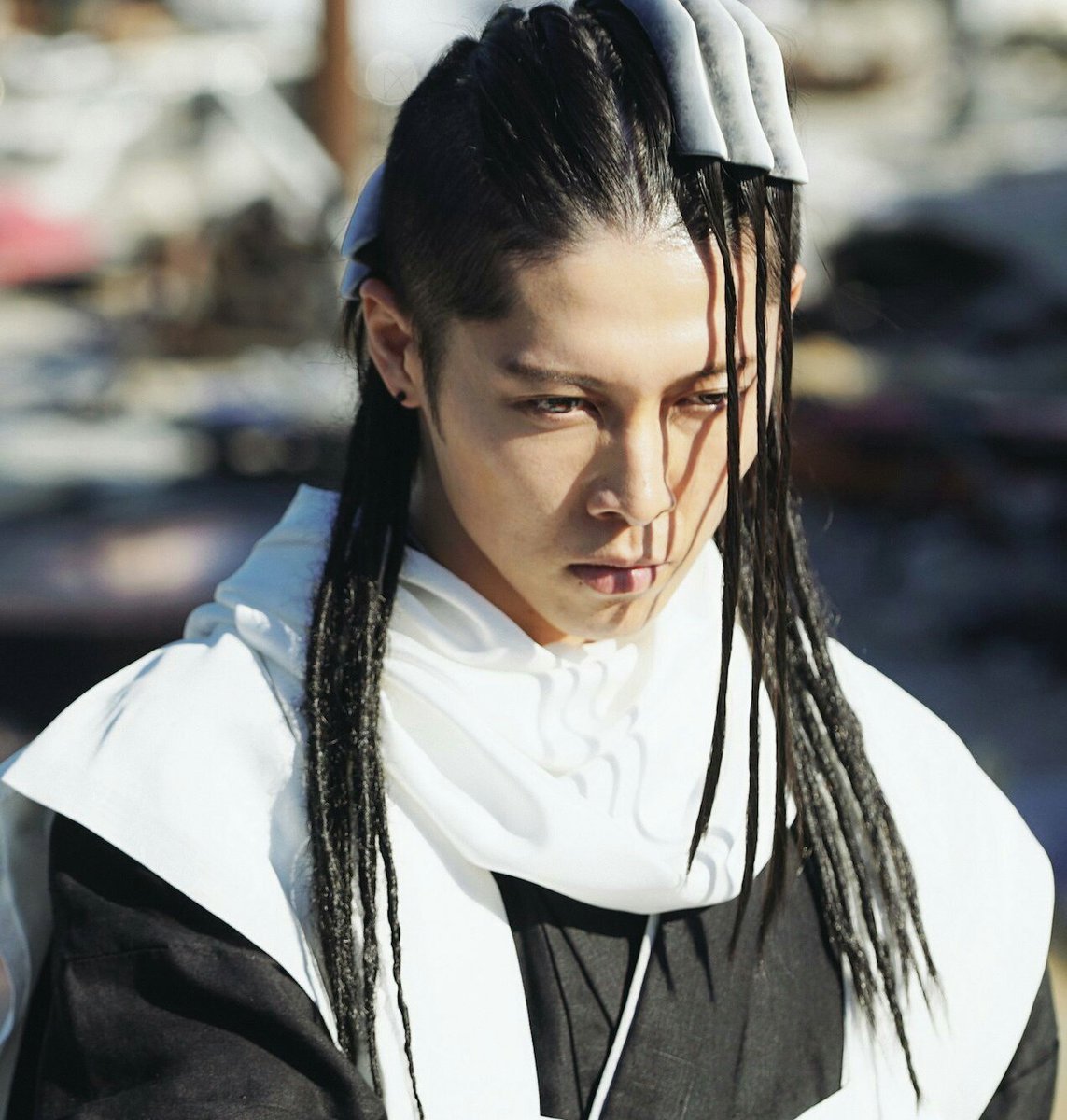 I never asked myself why i love the man so much. I just do… a lot.
There's something about the way he moves, the way he speaks the way he takes over the world, as if he wants to eat it all. He made me want to so much. Yes, i do know this may be an obsession i have with him, but i just can't stop. The man is so talented. I just can't help it.
Am i saying to many times i love this man? Sorry, i just can't help myself.
At this point listening to his music is like coming home.