Friday Finds showcases the books you 'found' and added to your To Be Read (TBR) list… whether you found them online, or in a bookstore, or in the library — wherever! (they aren't necessarily books you purchased).
On my shelves:
 Six of Crows by Leigh Bardugo
Synopsis: Criminal prodigy Kaz Brekker has been offered wealth beyond his wildest dreams. But to claim it, he'll have to pull off a seemingly impossible heist:
Break into the notorious Ice Court
(a military stronghold that has never been breached)
Retrieve a hostage
(who could unleash magical havoc on the world)
Survive long enough to collect his reward
(and spend it)
Kaz needs a crew desperate enough to take on this suicide mission and dangerous enough to get the job done – and he knows exactly who: six of the deadliest outcasts the city has to offer. Together, they just might be unstoppable – if they don't kill each other first.
I decided to give this duology (?) an opportunity even though i wasn't a big fan of the Grisha trilogy.  I did like the way the author writes so i'll be giving this a shot… since i'm really curious about it i may even give it a go while i'm on my trip.. not sure though.. we'll have to wait and see.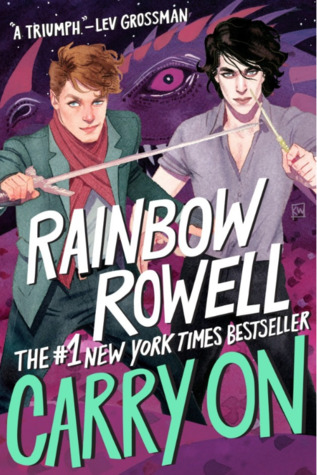 Carry On by Rainbow Rowell
Synopsis: Simon Snow is the worst Chosen One who's ever been chosen.
That's what his roommate, Baz, says. And Baz might be evil and a vampire and a complete git, but he's probably right.
Half the time, Simon can't even make his wand work, and the other half, he starts something on fire. His mentor's avoiding him, his girlfriend broke up with him, and there's a magic-eating monster running around, wearing Simon's face. Baz would be having a field day with all this, if he were here — it's their last year at the Watford School of Magicks, and Simon's infuriating nemesis didn't even bother to show up.
Carry On – The Rise and Fall of Simon Snow is a ghost story, a love story and a mystery. It has just as much kissing and talking as you'd expect from a Rainbow Rowell story – but far, far more monsters.
Back in 2015 when i first read this book i just fell in love with it, but up until now i didn't own a physical copy of the book. When i saw it sitting on the bookstore this week i decided it was time, i need to have this book on my physical shelf, so without thinking about it twice i just purchased it.
 Harriet the Spy by Louise Fitzhugh
Synopsis: Harriet M. Welsch is a spy. In her notebook, she writes down everything she knows about everyone, even her classmates and her best friends. Then Harriet loses track of her notebook, and it ends up in the wrong hands. Before she can stop them, her friends have read the always truthful, sometimes awful things she's written about each of them. Will Harriet find a way to put her life and her friendships back together?
While writing some posts for the blog i remembered how much i loved the movie and how much i wanted to read this book so i went and buy it, hoping i'll get to it soon enough.
And how about you, have you find any interesting books this week?