Friday Finds showcases the books you 'found' and added to your To Be Read (TBR) list… whether you found them online, or in a bookstore, or in the library — wherever! (they aren't necessarily books you purchased).
On my Shelves:
 Giant Days Vol. 1 by John Allison (Goodreads Author), Lissa Treiman (Illustrator), Whitney Cogar (Colors)
Synopsis: Susan, Esther, and Daisy started at university three weeks ago and became fast friends. Now, away from home for the first time, all three want to reinvent themselves. But in the face of hand-wringing boys, "personal experimentation," influenza, mystery-mold, nu-chauvinism, and the willful, unwanted intrusion of "academia," they may be lucky just to make it to spring alive. Going off to university is always a time of change and growth, but for Esther, Susan, and Daisy, things are about to get a little weird.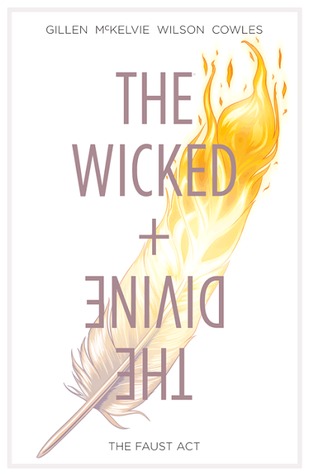 The Wicked And The Divine Vol. 1 by Kieron Gillen, Jamie McKelvie (Illustrations), Matt Wilson (Colorist), Clayton Cowles
Synopsis: Every ninety years, twelve gods incarnate as humans. They are loved. They are hated. In two years, they are dead. The team behind critical tongue-attractors like Young Avengers and PHONOGRAM reunite to create a world where gods are the ultimate pop stars and pop stars are the ultimate gods. But remember: just because you're immortal, doesn't mean you're going to live forever.
 Saga Vol.1by Brian K. Vaughan (Writer), Fiona Staples (Artist)
Synopsis: When two soldiers from opposite sides of a never-ending galactic war fall in love, they risk everything to bring a fragile new life into a dangerous old universe. 
From bestselling writer Brian K. Vaughan, Saga is the sweeping tale of one young family fighting to find their place in the worlds. Fantasy and science fiction are wed like never before in this sexy, subversive drama for adults. 
 Awkward by Svetlana Chmakova 
Synopsis: Cardinal rule #1 for surviving school: Don't get noticed by the mean kids.
Cardinal rule #2 for surviving school: Seek out groups with similar interests and join them.
On her first day at her new school, Penelope–Peppi–Torres reminds herself of these basics. But when she trips into a quiet boy in the hall, Jaime Thompson, she's already broken the first rule, and the mean kids start calling her the "nerder girlfriend." How does she handle this crisis? By shoving poor Jaime and running away!
Falling back on rule two and surrounding herself with new friends in the art club, Peppi still can't help feeling ashamed about the way she treated Jaime. Things are already awkward enough between the two, but to make matters worse, he's a member of her own club's archrivals–the science club! And when the two clubs go to war, Peppi realizes that sometimes you have to break the rules to survive middle school!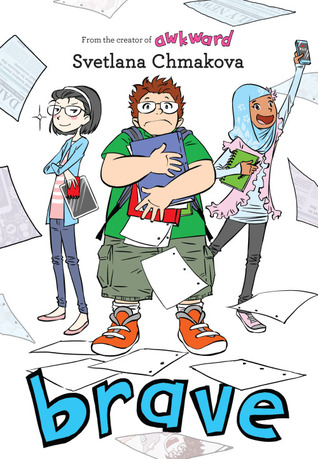 Brave by Svetlana Chmakova 
Synopsis: In his daydreams, Jensen is the biggest hero that ever was, saving the world and his friends on a daily basis. But his middle school reality is VERY different – math is hard, getting along with friends is hard…Even finding a partner for the class project is a big problem when you always get picked last. And the pressure's on even more once the school newspaper's dynamic duo, Jenny and Akilah, draw Jensen into the whirlwind of school news, social experiment projects, and behind-the-scenes club drama. Jensen's always played the middle school game one level at a time, but suddenly, someone's cranked up the difficulty setting. Will those daring daydreams of his finally work in his favor, or will he have to find real solutions to his real life problems?
 Frazzled: Everyday Disasters and Impending Doom (Frazzled, #1) by Booki Vivat
Synopsis: Meet Abbie Wu! She's about to start middle school and she's totally in crisis.
Abbie Wu is in crisis—and not just because she's stuck in a family that doesn't quite get her or because the lunch ladies at school are totally corrupt or because everyone seems to have a "Thing" except her. Abbie Wu is in crisis always.
Heavily illustrated and embarrassingly honest, Frazzled dives right into the mind of this hilariously neurotic middle school girl as she tries to figure out who she is, where she belongs, and how to survive the everyday disasters of growing up. With Abbie's flair for the dramatic and natural tendency to freak out, middle school has never seemed so nerve-racking!
Packed with hilarious black-and-white illustrations and doodles throughout, Frazzled takes readers through Abbie Wu's hysterical middle school adventures.
So yeah, this week i bought a bunch graphic novels and i already started reading some of them and they are great! Most of them i bought because so many people read and recommended them, i hope i like them too!
Have you find any good reading this week?