Friday Finds showcases the books you 'found' and added to your To Be Read (TBR) list… whether you found them online, or in a bookstore, or in the library — wherever! (they aren't necessarily books you purchased).
On my Shelves:
 The Upside Of Unrequited by Becky Albertalli
Synopsis: Seventeen-year-old Molly Peskin-Suso knows all about unrequited love—she's lived through it twenty-six times. She crushes hard and crushes often, but always in secret. Because no matter how many times her twin sister, Cassie, tells her to woman up, Molly can't stomach the idea of rejection. So she's careful. Fat girls always have to be careful.
Then a cute new girl enters Cassie's orbit, and for the first time ever, Molly's cynical twin is a lovesick mess. Meanwhile, Molly's totally not dying of loneliness—except for the part where she is. Luckily, Cassie's new girlfriend comes with a cute hipster-boy sidekick. Will is funny and flirtatious and just might be perfect crush material. Maybe more than crush material. And if Molly can win him over, she'll get her first kiss and she'll get her twin back. 
There's only one problem: Molly's coworker Reid. He's an awkward Tolkien superfan with a season pass to the Ren Faire, and there's absolutely no way Molly could fall for him. Right?
I adored the author's previous book, Simon vs the homo sapiens agenda, so i'm really looking forward to reading this one. I will be taking it with me on my trip to the UK.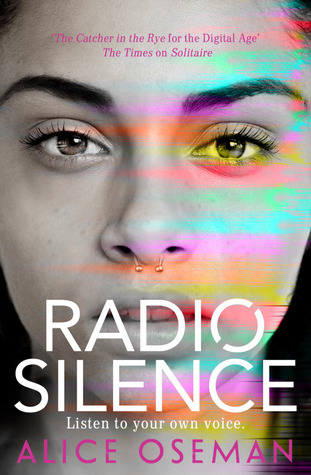 Radio Silence by Alice Oseman
Synopsis: What if everything you set yourself up to be was wrong?
Frances has always been a study machine with one goal, elite university. Nothing will stand in her way; not friends, not a guilty secret – not even the person she is on the inside.
But when Frances meets Aled, the shy genius behind her favorite podcast, she discovers a new freedom. He unlocks the door to Real Frances and for the first time she experiences true friendship, unafraid to be herself. Then the podcast goes viral and the fragile trust between them is broken.
Caught between who she was and who she longs to be, Frances' dreams come crashing down. Suffocating with guilt, she knows that she has to confront her past…
She has to confess why Carys disappeared…
Meanwhile, at uni, Aled is alone, fighting even darker secrets.
It's only by facing up to your fears that you can overcome them. And it's only by being your true self that you can find happiness.
Frances is going to need every bit of courage she has.
Okay, so i don't even know why i picked up this book since i wasn't much of a fan of the author's previous book… but i guess i was on the mood of giving second chances ??
 Sisters by Raina Telgemeier
Synopsis: Three weeks. Two sisters. One car. A True Story
Raina can't wait to be a big sister. But once Amara is born, things aren't quite how she expected them to be. Amara is cute, but she's also a cranky, grouchy baby, and mostly prefers to play by herself. Their relationship doesn't improve much over the years. But when a baby brother enters the picture, and later, when something doesn't seem right between their parents, they realize they must figure out how to get along. They are sisters, after all. 
Finally, i've been waiting to read this one for years but i could never buy it… now guess what? I have it! and i hope i'll be getting to it really soon 🙂
 A sincere warning about the entity in your home by Jason Arnopp
Synopsis: "Dear friend,
This is no chain letter, hoax or prank.
It is a sincere warning about your home and the entity which dwells within.
Your home has been haunted for quite some time.
I am sorry that I could not personally deliver this document. I did not even post it myself. The postmark on the envelope will not help you, should you ever attempt to locate me.
When this letter is complete, I shall entrust a friend in another country with repackaging and sending it on my behalf. This letter also may or may not have been translated from its original language.
You do not know me. You must never know me.
Neither do I know you, beyond your name, address and appearance. I have seen you in person but you have not seen me.
Think back to the day that you moved into your home. I contrived to casually pass by as you stood outside. I saw your face, but you did not so much as glance my way. I did not stop walking. I simply committed your face to memory and moved on before you became aware of my presence.
Why did I want to see you?
I suppose my conscience drove me to it. Just as it compels me to finally write this letter.
I wanted to see exactly who I was passing the entity on to."
A NEW CONCEPT IN FEAR…
Imagine a supernatural horror story in which the paranormal activity happens within YOUR home. 
A SINCERE WARNING ABOUT THE ENTITY IN YOUR HOME takes the form of an anonymous letter sent to YOUR address. It details the terrifying events which happened in your home and which continue to this day.
You have inherited a curse and are being preyed upon by a bone-chilling apparition. This 10,000-word letter from the previous resident advises you how to cope, while detailing the unthinkable ordeal they suffered before you.
A SINCERE WARNING ABOUT THE ENTITY IN YOUR HOME is the ultimate way to scare yourself in your own home, because it's the only ghost story which takes place IN your home. Dare you read it?
So i read the synopsis and thought it would be a really interesting reading… i already read it, it's a short story and though it was entertaining, it's not that scary or surprising… i'll be reviewing it soon…
And those were the books i purchased  recently… did you bought or added any interesting books to yor shelves/tbr?