Friday Finds
Friday Finds showcases the books you 'found' and added to your To Be Read (TBR) list… whether you found them online, or in a bookstore, or in the library — wherever! (they aren't necessarily books you purchased).
I haven't posted this section in a while, but it was because i didn't add any books to my shelves or tbr lately… this week though i bought some new books, so let me show you the new additions to my lists!
On my shelves:
 The Masked Truth by Kelley Armstrong 
Synopsis: Riley Vasquez is haunted by the brutal murder of the couple she was babysitting for.
Max Cross is suffering under the shadow of a life-altering diagnosis he doesn't dare reveal.
The last thing either of them wants is to spend a weekend away at a therapy camp alongside five other teens with "issues." But that's exactly where they are when three masked men burst in to take the group hostage.
The building has no windows. The exits are sealed shut. Their phones are gone. And their captors are on a killing spree.
Riley and Max know that if they can't get out, they'll be next—but they're about to discover that even escape doesn't equal freedom.
 The Next Together by Lauren James
Synopsis: How many times can you lose the person you love? 
Katherine and Matthew are destined to be born again and again, century after century. Each time, their presence changes history for the better, and each time, they fall hopelessly in love, only to be tragically separated.
Spanning the Crimean War, the Siege of Carlisle and the near-future of 2019 and 2039 they find themselves sacrificing their lives to save the world. But why do they keep coming back? What else must they achieve before they can be left to live and love in peace?
Maybe the next together will be different…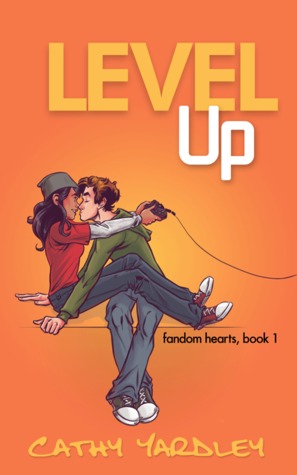 Level Up by Cathy Yardley
Synopsis: Geeky introvert Tessa Rodriguez will do whatever it takes to get promoted to video game engineer– including creating a fandom-based video game in just three weeks. The only problem is, she can't do it alone. Now, she needs to strong-arm, cajole, and otherwise socialize with her video game coworkers, especially her roommate, Adam, who's always been strictly business with her. The more they work together, though, the closer they get…
Adam London has always thought of his roomie Tessa as "one of the guys" until he agreed to help her with this crazy project. Now, he's thinking of her all the time… and certainly as something more than just a roommate! But his last girlfriend broke up with him to follow her ambitions, and he knows that Tessa is obsessed with getting ahead in the video game world.
Going from friends to something more is one hell of a challenge. Can Tessa and Adam level up their relationship to love?
Have you added any new books to your shelves this past week? 
Have a nice reading!