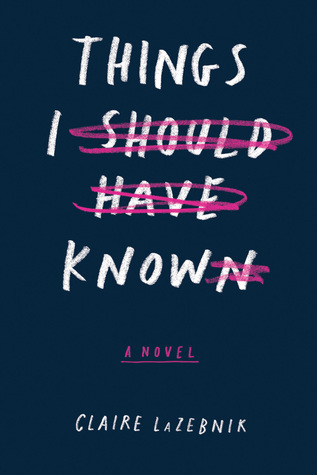 Things I Should Have Known by Claire LaZebnik
Genre: YA
Pages: 320
Publisher: HMH Books for Young Readers
Rating: 3.5 stars
Synopsis: From the author of Epic Fail comes the story of Chloe Mitchell, a Los Angeles girl on a quest to find love for her autistic sister, Ivy. Ethan, from Ivy's class, seems like the perfect match. It's unfortunate that his older brother, David, is one of Chloe's least favorite people, but Chloe can deal, especially when she realizes that David is just as devoted to Ethan as she is to Ivy.
Uncommonly honest and refreshingly funny, this is a story about sisterhood, autism, and first love. Chloe, Ivy, David, and Ethan, who form a quirky and lovable circle, will steal readers' hearts and remind us all that it's okay to be a different kind of normal.  
My opinion on the book:
*First of all, i received an ARC of this book from NetGalley in exchange of my honest opinion*
When Chloe's big sister Ivy, an autistic young woman starts to ask about love interests Chloe realises her sister is feeling lonely and she decides to find Ivy a boyfriend.
The story was very different than what i expected, in a good way. Truly it talks a lot about how society sees people with autism, about the families and the autistic persons themselves.
Also, luckily enough the book wasn't all about the main character love life, but about her sister.
I enjoyed learning about autism and appreciated the fact that it was written by someone who knows about the topic from her own life (one of the author's sons is autistic).
The story doesn't have many twists or surprises though it had one i wasn't expecting at all. At moments it was really fun but it also knew when to take the story more seriously.
I didn't like the main character much. I think her journey could have been more explicit that it was, but she did change the way she saw the world. I liked many of the other characters, though.
One of the main problems i had with the book was that the main character was so perfect at first, she had everything, she was smart and pretty and everyone liked her in school, she also was dating the hottest guy in school. It felt a little too much.
There's romance for both the sisters in the book. I wasn't really expecting any of it to be honest. I think the romance for Chloe was rushed and unnecessary. Why can't people just be friends?
Anyway, i enjoyed the way the book was written. It was a 'friendly written' book. It never felt like the author was looking down on you but saw you eye to eye.
It was a fun reading, i read it pretty fast and i found it to be easy and sweet.
I would recommend it to people looking to read about young autistic people more than people looking for a romance, though.
The book will be released March 28th, i hope you give it a chance!
Happy reading,