I've been obsessing over How To Get Away With Murder a lot lately, and it's the reason i haven't been reading the last two weeks.
If you are anything like me, this very moment you are suffering from some serious withdrawal from it after discovering who killed *spoilers*. (I'm writing this before it airs, so don't worry, there aren't any spoilers here because i have no freaking idea what happened).
Are you questioning yourself what should you do now that the season is over?! Well, that's why i'm here today.
These are 5 books that you may enjoy if you like How To Get Away With Murder!
 Black Chalk by Christopher J.Yates
Synopsis: It was only ever meant to be a game played by six best friends in their first year at Oxford University; a game of consequences, silly forfeits, and childish dares. But then the game changed: The stakes grew higher and the dares more personal and more humiliating, finally evolving into a vicious struggle with unpredictable and tragic results. Now, fourteen years later, the remaining players must meet again for the final round. Who knows better than your best friends what would break you?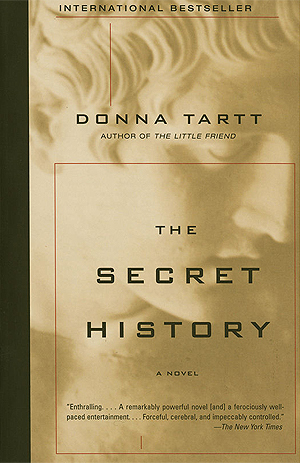 The Secret History by Donna Tartt
Synopsis: Under the influence of their charismatic classics professor, a group of clever, eccentric misfits at an elite New England college discover a way of thinking and living that is a world away from the humdrum existence of their contemporaries. But when they go beyond the boundaries of normal morality they slip gradually from obsession to corruption and betrayal, and at last – inexorably – into evil.
 Dare Me by Megan Abbott
Synopsis: Addy Hanlon has always been Beth Cassidy's best friend and trusted lieutenant. Beth calls the shots and Addy carries them out, a long-established order of things that has brought them to the pinnacle of their high-school careers. Now they're seniors who rule the intensely competitive cheer squad, feared and followed by the other girls — until the young new coach arrives.
Cool and commanding, an emissary from the adult world just beyond their reach, Coach Colette French draws Addy and the other cheerleaders into her life. Only Beth, unsettled by the new regime, remains outside Coach's golden circle, waging a subtle but vicious campaign to regain her position as "top girl" — both with the team and with Addy herself.
Then a suicide focuses a police investigation on Coach and her squad. After the first wave of shock and grief, Addy tries to uncover the truth behind the death — and learns that the boundary between loyalty and love can be dangerous terrain.
The raw passions of girlhood are brought to life in this taut, unflinching exploration of friendship, ambition, and power. Award-winning novelist Megan Abbott, writing with what Tom Perrotta has hailed as "total authority and an almost desperate intensity," provides a harrowing glimpse into the dark heart of the all-American girl.
 Liars, Inc. by Paula Stokes
Synopsis: Max Cantrell has never been a big fan of the truth, so when the opportunity arises to sell forged permission slips and cover stories to his classmates, it sounds like a good way to make a little money and liven up a boring senior year. With the help of his friends Preston and Parvati, Max starts Liars, Inc. Suddenly everybody needs something and the cash starts pouring in. Who knew lying could be so lucrative?
When Preston wants his own cover story to go visit a girl he met online, Max doesn't think twice about hooking him up. Until Preston never comes home. Then the evidence starts to pile up—terrifying clues that lead the cops to Preston's body. Terrifying clues that point to Max as the murderer.
Can Max find the real killer before he goes to prison for a crime he didn't commit? In a story that Kirkus Reviews called "Captivating to the very end," Paula Stokes starts with one single white lie and weaves a twisted tale that will have readers guessing until the explosive final chapters.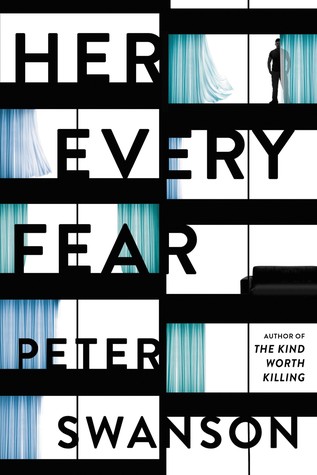 Her Every Fear by Peter Swanson
Synopsis: Growing up, Kate Priddy was always a bit neurotic, experiencing momentary bouts of anxiety that exploded into full-blown panic attacks after an ex-boyfriend kidnapped her and nearly ended her life. When Corbin Dell, a distant cousin in Boston, suggests the two temporarily swap apartments, Kate, an art student in London, agrees, hoping that time away in a new place will help her overcome the recent wreckage of her life.
Soon after her arrival at Corbin's grand apartment on Beacon Hill, Kate makes a shocking discovery: his next-door neighbor, a young woman named Audrey Marshall, has been murdered. When the police question her about Corbin, a shaken Kate has few answers, and many questions of her own—curiosity that intensifies when she meets Alan Cherney, a handsome, quiet tenant who lives across the courtyard, in the apartment facing Audrey's. Alan saw Corbin surreptitiously come and go from Audrey's place, yet he's denied knowing her. Then, Kate runs into a tearful man claiming to be the dead woman's old boyfriend, who insists Corbin did the deed the night that he left for London.
When she reaches out to her cousin, he proclaims his innocence and calms her nerves–until she comes across disturbing objects hidden in the apartment and accidentally learns that Corbin is not where he says he is. Could Corbin be a killer? What about Alan? Kate finds herself drawn to this appealing man who seems so sincere, yet she isn't sure. Jet-lagged and emotionally unstable, her imagination full of dark images caused by the terror of her past, Kate can barely trust herself, so how could she take the chance on a stranger she's just met?
I hope you enjoy these great readings!