Hello there, lovelies!
So, Valentine's day is around the corner and i thought it would be a good idea to share some of my favorite romance books. Now, i'm not big at romance, so i hope it tells you something, the way i feel about these.
The 5 recs i'll be giving you here a some of my favorite readings, some of them are most known than others… any way, I hope you find them interesting and decide to check them up.
 Love Virtually by Daniel Glattauer
Synopsis: It's a virtual romance that begins by chance. When Leo mistakenly receives e-mails from a stranger named Emmi, he replies–and Emmi writes back. Soon, secrets are shared, sparks fly, and erotic tension simmers. Even though Emmi is married, it seems only a matter of time till they meet. But will their feelings survive a real-life encounter? And, if so-what then? Funny and fast-paced, Love Virtually offers plenty of twists, turns, and satisfaction.
 My Name Is Memory by Ann Brashares
Synopsis: Daniel has spent centuries falling in love with the same girl. Life after life, crossing continents and dynasties, he and Sophia (despite her changing name and form) have been drawn together-and he remembers it all. For all the times that he and Sophia have been connected throughout history, they have also been torn painfully, fatally, apart.
But just when Sophia (now "Lucy" in the present) finally awakens to the secret of their shared past, the mysterious force that has always separated them reappears. Ultimately, they must come to understand what stands in the way of their love if they are ever to spend a lifetime together.
 Classmates by Nakamura Asumiko
Synopsis: Rihito Sajou, a hyperventilating overachiever, winds up attending a high school where the only requirement for graduation is knowing how to write your name. Due to some extenuating circumstances, he is now being tutored by one of the many school idiots, Hikaru "Beyan" Kusakabe. For two students who had never before had a real conversation, what does the future hold now that they are constantly together? Follow these boys as they experience excitement, betrayal, depression, and love; that unyielding, crazy, poignant, and fantastical kind of love.
 From Me To You by Shiina Karuho
Synopsis: Sawako Kuronuma is the perfect heroine…for a horror movie. With striking similarities to a haunting movie character–jet-black hair, sinister smile and silent demeanor–she's mistakenly called Sadako by those around her. But behind her scary façade is a very misunderstood teenager. Too shy to fit in, all she wants to do is make some friends. But when the most popular boy in class befriends her, she's sure to make more than just that–she's about to make some enemies too!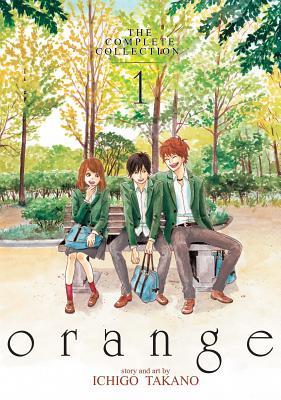 Orange by Takano Ichigo 
Synopsis: A Plea From the Future
On the day that Naho begins 11th grade, she receives a letter from herself ten years in the future. At first, she writes it off as a prank, but as the letter's predictions come true one by one, Naho realizes that the letter might be the real deal. Her future self tells Naho that a new transfer student, a boy named Kakeru, will soon join her class. The letter begs Naho to watch over him, saying that only Naho can save Kakeru from a terrible future. Who is this mystery boy, and can Naho save him from his destiny?
Do you have any good romrecs to share!? Please leave them in the comments box 🙂
'Til Next Time 😉