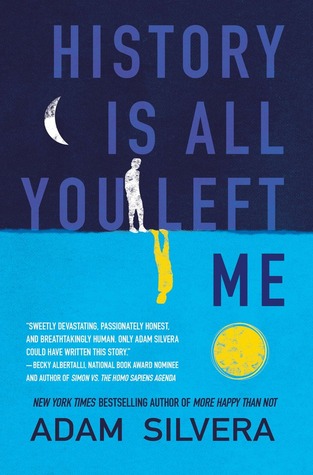 History Is All You Left Me by Adam Silvera
Genre: YA, GLBT.
Pages: 320
Publisher: Soho Teens
Rating: 5 stars
Summary: When Griffin's first love and ex-boyfriend, Theo, dies in a drowning accident, his universe implodes. Even though Theo had moved to California for college and started seeing Jackson, Griffin never doubted Theo would come back to him when the time was right. But now, the future he's been imagining for himself has gone far off course.
To make things worse, the only person who truly understands his heartache is Jackson. But no matter how much they open up to each other, Griffin's downward spiral continues. He's losing himself in his obsessive compulsions and destructive choices, and the secrets he's been keeping are tearing him apart.
If Griffin is ever to rebuild his future, he must first confront his history, every last heartbreaking piece in the puzzle of his life.
My Opinion On The Book:
There's a blessing on reading books. Whenever you find yourself inverse in a different world where you can feel the pain of others as yours, feel close and intimate with the characters, feel as they come to life, that's a blessing.
Over the years i felt as if the written words and I were falling apart like i wasn't supposed to be the reader i am today. Three years ago i decided books and i weren't done, i love to read and this book is one of the most important reasons why.
History is all you left me tell us the story of Griffin, a guy who just lost his first love and ex-boyfriend in a drowning accident. In the book we get to see their story, their history and how is he coping with the loss.
History is all you left me is a book about grief, about love, about being honest to others and to yourself, about loss and moving on or not.
When i first read the synopsis of the book i was expecting something completely different from what the book is really about and i'm really happy it's that way because if the book was how i imagined i wouldn't have loved it as much as i did.
I commented on a previous post (Tears Are All You Left Me.) that i was struggling with finishing reading the book because it drained me, i was feeling too much with this book, i felt the ache and the grief, the characters felt too real and the story was written in such a way i just, i was in love with it while also felt like i couldn't handle it.
I had to put the book aside for almost a week because i couldn't stop crying, from the very beginning and to the very end.
Still, reading this book, even though it broke me to more pieces than i thought i could every be broken to was one of the most amazing experiences of my life. This book brought me back to a place i thought i lost forever. Caring about something this deeply even though people like to remind me it's just a story someone wrote, fictional, fictional, FICTIONAL feels as good as it feels heartbreaking.
This is te first book i read by Adam Silvera, and though i have the feeling More Happy Than Not would break my heart if read it too, there's no way in hell i won't be reading it the moment i feel in place good enough to be strong and able to endure it. I think Adam's writing is so beautiful, raw and emotional it left me with no words to truly describe the way i feel.
I finished the book last night and i was so full of ache and hurt but at the same time so happy i read something this wonderful, i couldn't sleep. Until about 5 am when i finally cried myself to sleep. Now, while writing this my eyes are full of tears and i'm not sure if it is because i feel so sad about the story or the fact it is over or maybe i'm crying from pure joy of reading it.
Anyway, there's not doubt in my mind this book is now one of my favorites forever, a book  i hope i have the strength to reread someday, maybe not tomorrow or this year, but one day.
I'm so thankful to Adam for writing this book, i wish i could actually put to words my tears.
There's one quote though that i kept thinking about when i finished reading the book:
"The world breaks everyone and afterward many are strong at the broken places." Ernest Hemingway. 
I'm not sure if i thought about it because of the characters or the way i'm feeling, so broken, but i believe it fits the best the way i'm currently feeling.
I think i talked about myself and my feelings instead of the book itself, but also, i think the way the book made me so emotinal says something really powerful about the book, doesn't it?
This story is an experience i wouldn't change for the world. I truly recommend it, with all my heart, and my soul and spirit, because this book these words can touch you ina way it could crush your heart and still you'll be thankful with the book for doing it.
p.d: my sister told me, i shouldn't have read the book if it was so sad, she said i should've waited a week, a month, a year if i knew it would make me cry this bad.