Top 5 Wednesday: Books I Want to Read Before the End of the Year.
 Holding Up The Universe by Jennifer Niven.
From the author pf my favorite standalone book ever (All The Bright Places) we are getting another YA book this year! I'm so excited! I love her writing simplicity so much, i cannot wait for this book… i already ordered it even if it won't come out until October. I just… i really need this book in my hands and i'm pretty soon i'll read it the moment it come to my hands, like All The Bright Places last year.
 End Of Days by Susan Ee.
I read the two previous installments of this series this year and i totally loved them, so i'm hoping i get to the final book on the trilogy before the end of the year. It would be pretty ironic if i don't get to it before the end of days (of the year). Also, i'll be pretty pissed with myself, because i was supposed to read three trilogies this year and i haven't finished even one yet…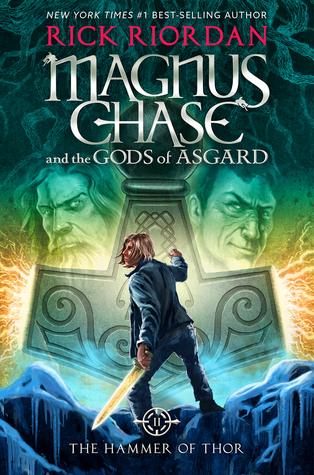 The Hammer Of Thor by Rick Riordan.
Yes! Another book by Uncle Rick is coming out this year and i'll be first in line to read it ASAP. Like, seriously, i'm really counting the days before it comes out! I totally loved the first book of the series last year, so i'm really looking forward to  this one… i miss Magnus  (both Chase&Bane) and Hearth and Samirah and Blitz! Man, i loved all those characters so much i cannot wait to read about them more stories!! I need this book now.
 Rebel Belle by Rachel Hawkins.
Don't know i really feel i need to read this book before the year ends. Like seriously, i don't know why.. i just know i do, i do … i need just to be on the right mood.. and maybe it gets to be the beginning of my second trilogy to be read this year.
 Catalyst by James Luceno.
Since this is a prequel for the new Star Wars movie coming to theatres this December (Rogue One) i really need to read it before i get to watch the movie. It is coming a month before it, so i'll be having plenty of time for it… Oh man, i want so badly to know the characters for the movie already! i cannot wait any longer for this books to come out!! I already ordered it, so i'll be reading it ASAP.
Well, those are my MUST READ before the end of the year!! I truly hope my moods are in sync with this because or else i won't be able to read anything 
.
Well, that's it for today's topic!!
Man, i' so fired up right now, i need to have these books with me already,.. i need to read them!!!
'Til Next Time 😉