There's more to the world than what meets the mundane eyes. Clary Fray accidentally discovers this when she witnesses the killing of a demon by Shadowhunters, even if she doesn't see it that way at the very beginning. From that moment on her life will make a turn of 180 degrees.
Full of action, love, sass, sexy warlocks and wtf moments, The Mortal Instruments by Cassandra Clare is one of my favorite books series of all time, sure many may say that The Infernal Devices and The Dark Artifices are written way better, but there's something about reading these books first and falling in love with the characters that make me love this one series more than the others.
Without any further ado, let's talk about it!
When did you start reading the books?
I think i read the first two books or one and a half back in 2012… but i wasn't really sure if i liked it. Then  in 2014 i picked them up again, reread the first one, finished the second at last and read all the others… the second time around i fell in love with the series in the first book.
Why did you start reading them?
The first time it was completely by chance, i went to a bookstore and told the girl working there i was looking for finished trilogies and she told me about them, i bought then the first three books (yeah, i tend to buy books just by chance, i don't even check if i may like them…). Back at the timei was trying to get back on the reading train, and since i had no patience for short stories where i get attached to books and they are already over, i was looking for long series and trilogies in which i can immerse myself for a longer while. So yeah, i just started reading the first book just because, i didn't knew anything about it back then.
Did i answer the right question here?
When did you knew you love the books so much they'd become a favorite?
Mmm, the second time i started reading them, i just, there was something really on point at the time for me to love the books, i was looking for something to obsess about (…) and there were so many books, and such lovable characters (aka Magnus Bane & Isabelle Lightwood & Simon Lewis & Raphael) i just, i couldn't put them down and i knew i was hooked for good.
How many times did you read the books?
I don't know, because the second time around, i was so obsessed with them i read them and reread them and listened to them, those were some wild months i spend all the day all days thinking, reading, and breathing TMI..
Who is your favorite character?
I think i talk about him before because he is my biggest fictional crush, Magnus Babe… i mean Magnus Bane. He is like, asdfghjkl;; …. i don't really have words, i totally love him!
Who is your least favorite character?
Will i have to talk about this each and every time?  … man, this is difficult, and please don't hatebe cause of this but my least favorite character in The Mortal Instruments series is Jace Whatever. I just,… i can't deal with him. It's like having an allergy, only instead to a thing, having it to a person.
OTP?
Obviously Malec, since all i want is for MAgnus to be happy (??). I was watching a review of the tv show the other day and the girl doing it said Malec is everyone's OTP on the show, on the books, everywhere related to TMI, and though i'm not sure of that, i'm a 1,000,000% sure they are mine. Like, i love Sizzy and Lucelyn, but it's nothing compared to my love for Malec. Malec is everything, okay? i just can't cope with my feelings right now.
Favorite book?
Since there are two different trilogies that became a series,  i can choose one of each trilogy right? RIGHT?
My favorite from the first trilogy is City of Glass, i mean i commented on it already, but the first time i read the book i read it in a loop about three or four times, because i enjoyed it so freaking much. Ad for the second trilogy, my favorite is City of Lost Souls, because Team Good and Domestic!Malec and Sizzy and everything was so good, and happy and.. sorry, i'm just rereading the book and i'm too emotional XD.
Least favorite book?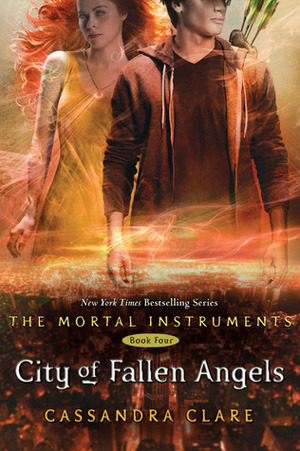 City of Fallen Angels, with all the dead babies and stuff, and Camille … and … pffffffffff, i just, there are too many not nice things in that book 
One thing you just totally love;
Magnus Bane, Alexander Lightwood. I really love the idea of a group of people that fight demons to keep humankind safe. Like, i wish i was one of the nephilim, because damn, that looks just a hell of fun.. >_<, aaaaaaaaaah, i want runes to help me go through with my daily life…
One thing you dislike;
There aren't enough more books about these specific characters. Like, i totally love that there are more books about the shadow world, but i'm attached to these characters, i don't want new ones, i want these and i want MAGNUS, LOTS, AND LOTS OF MAGNUS.
Would you recommend it?
Mmm, i would, even though many may say that the other trilogies on the shadow world are written better and such, i think thisis the best way to start, or maybe it's better o read them in the order of publishing really, so you won't get spoiled… but, you really should give this a chance if you are willing to enter the shadow world, because there's so much in here, it's such an amazing world to join… i think many people would enjoy these books.
Any last words about the series?
Nope, i think i just said everything i had to say about it…. I'm still wondering if i answered these questions on point though… this is too weird… Yeah, well… let's move on!
'Til Next Time 😉