Monday's here, which means i'm bringing you once again this section, where i talk about Books, Shows and Movies i've read/seen a while ago but because of reasons i haven't talked about them in the blog before.
Here i'll review mostly from the feelings and impressions these left in me back in the day and what i can remember to this day.
My Name Is Memory by Ann Brashares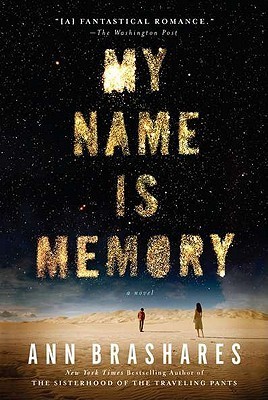 Infinite reincarnations, two souls, one eternal love.
My Name Is Memory is about a guy living dozens of lives, always remembering the previous ones and forever looking for the one girl he always loves. Daniel is the sweetest guy ever. Just remembering him my eyes get all teary.
This one is the romance book i will recommend first when someone ask me for a YA romance.
The 'magical' story of Daniel & Lucy is one of the most beautiful ones i got to read. The story itself is mostly told from Daniel pov both in first and third person, which is pretty peculiar itself in YA. His character is pure and honest all the way through the book.
We also get to know each and every one of the lives where they met before, from the very beginning. Sometimes she falls for him, sometimes she is an old lady and he is a little boy (i know this sounds weird, but it is just fine, i swear).
It is a story about looking for someone and hoping to do things right for once so they can get to be happy.
The stories along history are one more beautiful than the other, i enjoyed each one of them.
I really liked the way the author writes, it's so raw and emotional. I couldn't help but fell the pain and the happiness the characters were feeling. It was just amazing.
Daniel & Lucy OTP forever! Like, seriously their story is the sweetest and i regret nothing, they are so freaking cute <3.
Ok, i'm rambling…
Anyway… many people didn't like the ending of the book and yes i can understand why. But i found it to be soothing to the story. I mean, i obviously wish it had a sequel, but when thinking about the story in the book that ending makes so much sense.. i won't give an explanation because i don't want to spoil anyone, but i swear, it makes sense.
Would i recommend this book? Well, there's a catch. As i said the book ends in a way that many people felt 'betrayed' by it, so i would recommend it only to people with open minds that can deal with ambiguous endings.
To be completely honest, in my opinion even with that ending the book is really worth it because of the story, the writing, and the characters. The book is for me a 9.5/10.
So, as i said… i truly recommend you give a chance to this book, it is such an incredible reading. Well, it's one of my favorites, i may be a little biased …
'Til Next Time 😉