Yes, i do realize it's a little into the month already but i couldn't write the post before because of personal reasons (….it's like, really long to explain), so i'm now bringing you my monthy wrap up! Let's start!
Since last month i wasn't around for the monthly wrap up, i will be doing a bi-monthly wrap up this time! (yay!), also… because i was MIA for the whole month (…) the reviews for the books i read this July will be coming this way in August, i'll try to write as many as i can! Wish me luck, … i might have been away from the internet but not away from books!
World After by Susan Ee ♥♥♥♥
Okay, this trilogy… i haven't finished it yet, but only because i'm really scared of it ending. Like, i really enjoyed reading this book and the previous one, Angelfall, so i don't want it to end.
As i commented before (did i?) these books are about the end of times days when angels descended and started a war against humankind. Our Heroin, Penryn (who has the coolest name ever!) has been taking care of her family until an incident pushed them apart, and now she and a fallen angel Raffe are trying to make things right, both for her, her family and for him. I love them so much, Penryn, Raffe and Paige… argh, i can't let them go.
End of Watch by Stephen King ♥♥♥♥
So, this trilogy is over.
This trilogy is about an ex-cop made private detective who is 'called out' by the one mass killer he couldn't get when he was still working for the police. The characters and the situations are, as always with Stephen King, extremely vivid.
Last year i read Mr. Mercedes, the first book of the trilogy and it blew my mind, then i read Finders Keepers, the second one which wasn't as good. But for this one i really had high expectations because my bae Brady was coming back! Like, full time… i'm still not sure how i feel about the book to be honest, but i'll be posting a full review of the trilogy soon…
Forgive Me, Leonard Peacock by Matthew Quick ♥♥♥♥
A boy is about to kill his once-best-friend and then off himself on his birthday. But before he does it, he wants to give to the meaningful people in his life a present each.
This book was an excellent reading, the story is compelling, like, i couldn't put it down… To be honest, i was expecting something completely different from the book, but i ended up finding an amazing story full of meaning and depth that made me think a lot about life. I'll be writing a full review of the book as soon as i can.
Scarlett Epstein Hates It Here by Anna Breslaw ♥♥♥
Mmm, so this book is about a fangirl. Yes, that doesn't say much ah? Well this girl has one coc the biggest problems a fangirl can have, her favorite show was ended and now she doesn't know what to do with her life, which is a mess because of so many reasons (i'll talk about it in my review).
I had very hjgh hopes for this book and although it fell a little short, i did enjoy reading it. There were some very interesting relationships in the story … I'm stolling. I just.. I'll just recommend it for people that liked books as Fangirl (obviously, it even has a fanfiction in it) and l the feels, because FANGIRLING.
I Am Not A Serial Killer by Dan Wells ♥♥♥♥
This book. Okay, so this iz the story of John, a teenager that realized he has homicidal tendences at a young age and is obsessed with Serial Killers. All his life he has been trying to have himself on a leash, but when murders start to happen in his town he decides he will catch the killer and stop him himself.
I really enjoyed this book, normally you don't get to read from the psychopath's pov and it made a very interesting and refreshing reading. I haven't got around to keep reading the series yet, but i'm sure that i'll be catching up, hopefully soon.
The Princess Saves Herself In This One by Amanda Lovelace ♥♥♥♥♥
I'm not big on poetry, and when i picked this book up i didn't know that's what it was. Still i devoured it(it is a really easy read) made a lot of marks and reread ot because it was so wonderful. Loved it!
All The Feels by Danika Stone ♥♥♥
The story of a fangirl that cannot get over the death of her favorite character in her favorite movie franchise, so she comes up with an idea to try and bring him back to life. Add a little romance to the mix and you have it. That's it.
Now, i did enjoy the book although again, it fell a little short for me. And still i'm waiting for the book about the average fangirl that is afraid of showing her works because she thinks she sucks. In all the books about fangirls i read the girl is pretty fandom famous, but not all of us are. Maybe i should write it myself.
Star Wars The Foce Awakens Junior Novelization ♥♥♥♥♥
Hehehe, i couldn't stop myself, i just got the junior no elization of the movie and read it twice. Now i'm not sure, because it tells the same story, like almost nothing is missing but it is like a 100 pages shorter than the adult novelization? What are those 100 pages for?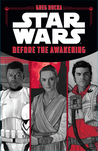 Before The Awakening by Greg Rucka ♥♥♥♥
Bought this book the day after i watched the movie for the first time but only now i got to actually read it (…) the book contains three pre-TFA short stories about Finn, Poe and Rey. It was fun to get to know a little more about them and their previous lives, but in my opinion the Finn story creates a dissonance with the canon in the movie? Anyway, no spoilers.
Bloodline by Claudia Gray ♥♥♥♥
This is a story about Senator Leia Organa, six years before TFA, where we get to see how the senate and the new republic are doing as well as how everything goes to hell. I won't say more because spoilers.
I really enjoyed this book, there's a lot of information about so many things, after finishing the book i had to retjink a lot of my previous ideas of the canon. Also, Ben is not in it (:-\ ) but we get tp know a bit about him and what is he doing at the time with Luke. Also, disaster! Man, i loved this book.
The Weapon Of The Jedi by Jason Fry ♥♥♥
A short story about Luke finding an old Jedi temple in a little planet and what happens there.
If you don't like Luke already, you'll fall for him, he is such a cinnamon roll in this book always smiling like a sunshine. Not the bsst book but entertaining.
Smuggler's Run by Greg Rucka ♥♥♥
Another short story, this time about Han Solo and Chewbacca in a rescue mission.
Pretty adventurous, and on point. Since these books are part of the new canon i'm very curious to see how any of it becomes relevant somehow ? If it does. Still, a fast and full of action reading.

The Princess, The Scoundrel And The Farm Boy by Alexndra Bracken ♥♥♥♥
The story of A New Hope as seen from three different points of view. It has some parts that weren't in the movie, which was pretty great, we get a lot more of Leia in this book than in the movie… I enjoyed it pretty much, it's a great reading to add to the knowledge about the universe of Star Wars.
Comics – Poe Dameron #3-4 and Shattered Empire #4
This were a must for me, since i've been reading them since April, i'm really enjoying reading these comics and i hope in the near future i get into more styles and stories, also, i hope i get into manga again , since that's totally waiting for me!
1984 by George Orwell ♥♥♥♥♥♥
Oh my, i never thought i would like this book as much as i did. Written in 1948 it manages to still be relevant to our society and how it all goes to hell. An amazing reading i totally recommend to everyone.
This book made me think a lot about how our society works and how messed up it all is. To be completely honest i became a little paranoid while reading it, but it's over now.. I think.
On July i couldn't bring myself to read a classic(…) still i hope i get to read two this month to balance it.
And that's all! Did you have good readings these two months?! share it in the comments!
'Til Next Time 😉