Friday Finds
Hosted by: MizB at booksandabeat
Friday Finds showcases the books you 'found' and added to your To Be Read (TBR) list… whether you found them online, or in a bookstore, or in the library — wherever! (they aren't necessarily books you purchased).
On my shelves:
Synopsis: Brady Hartsfield, perpetrator of the Mercedes Massacre, where eight people were killed and many more were badly injured, has been in the Traumatic Brain Injury Clinic for five years, in a vegetative state. According to his doctors, anything approaching a complete recovery is unlikely. But behind the drool and stare, Brady is awake, and in possession of deadly new powers that allow him to wreak unimaginable havoc without ever leaving his hospital room.
Retired police detective Bill Hodges, the unlikely hero of Mr. Mercedes and Finders Keepers, now runs an investigation agency with his partner, Holly Gibney, who delivered the blow to Hartsfield's head that put him on the brain injury ward. Brady also remembers that. When Bill and Holly are called to a murder-suicide with ties to the Mercedes Massacre, they find themselves pulled into their most dangerous case yet, one that will put not only their lives at risk, but those of Hodges's friend Jerome Robinson and his teenage sister, Barbara. Because Brady Hartsfield is back, and planning revenge not just on Bill Hodges and his friends, but on an entire city.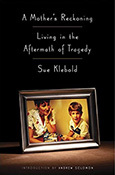 Synopsis: On April 20, 1999, Eric Harris and Dylan Klebold walked into Columbine High School in Littleton, Colorado. Over the course of minutes, they would kill twelve students and a teacher and wound twenty-four others before taking their own lives.
For the last sixteen years, Sue Klebold, Dylan's mother, has lived with the indescribable grief and shame of that day. How could her child, the promising young man she had loved and raised, be responsible for such horror? And how, as his mother, had she not known something was wrong? Were there subtle signs she had missed? What, if anything, could she have done differently?
These are questions that Klebold has grappled with every day since the Columbine tragedy. In A Mother's Reckoning, she chronicles with unflinching honesty her journey as a mother trying to come to terms with the incomprehensible. In the hope that the insights and understanding she has gained may help other families recognize when a child is in distress, she tells her story in full, drawing upon her personal journals, the videos and writings that Dylan left behind, and on countless interviews with mental health experts.
Synopsis: Rafe is a normal teenager from Boulder, Colorado. He plays soccer. He's won skiing prizes. He likes to write.
And, oh yeah, he's gay. He's been out since 8th grade, and he isn't teased, and he goes to other high schools and talks about tolerance and stuff. And while that's important, all Rafe really wants is to just be a regular guy. Not that GAY guy. To have it be a part of who he is, but not the headline, every single time.
So when he transfers to an all-boys' boarding school in New England, he decides to keep his sexuality a secret — not so much going back in the closet as starting over with a clean slate. But then he sees a classmate break down. He meets a teacher who challenges him to write his story. And most of all, he falls in love with Ben . . . who doesn't even know that love is possible.