As always, topics for these entries are taken from the Top 5 Wednesday group on Goodreads . The group was created by Lainey, who you can also follow on Youtube. Now the group is under Samantha's moderation, you can find her here.
Top 5 Wednesday: My Babies.
 Jason Grace from The Heroes of Olympus by Rick Riordan
I feel like a i'm the only person that likes this dork. I mean, yeah, he is kind of dorky and all but he is such a good soul, even if he feels important because of his dad. Many people complain he doesn't do much, like in the last book he was always fainting and such, but it isn't his fault, in any case it's the author's fault. I don't know, … i find his character really cute, being all comprehensive with Nico Di Angelo in The House Of Hades and all, i thin khe is a good leader, maybe not the best, but he did what he could with what he had, and all that was expected from a demigod as himself… i mean.. come one, so much expectation from the son of Jupiter, give the child a break!
Ron Weasley from the Harry Potter series by J. K. Rowling
Haha, wherever i find a Harry Potter fan, they always seem to hate Ron,… like, Harry Potter may be the only book i have in common with people in my real life and every person that read them hates Ron… I think it's because he is so human in comparison to some "perfect" characters in the books … like, people hate him for feeling envious of a friend that has everything he ever wanted? Okay, wouldn't you?  or when he left because he has jelaous of Hermione and Harry – because of the locket- seriously…? i mean.. leaving for sure wasn't a way of doing something on the matter, but hey, again, the guy it's only human, and i think he deserves better from the readers.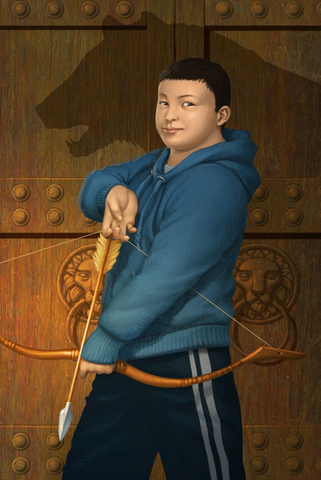 Frank Zhang from The Heroes of Olympus by Rick Riordan
My baby. It's not that i have to protect him from people that doesn't like him, but more like explain to people why he is so precious… i think from all the characters on the series he is the most underrated. For all I know people may care more about Octavian than him, and that's just.. no. I don't know.. in my opinion Frank has so much potential, he is so brave, so true, sucha good and loyal friend, and i just don't understand why people don't give a damn about him! OH, how i wish he would appear in the new series, such a great background story.. such wasted potential #SaveFrankZhangFromOblivion.
Holden Caufield from The Catcher in the Rye by J. D. Salinger.
I understood people doesn't like Holden the moment i asked someone if they had read the book… it was a while ago, after i finished it for the first time and i was in love with Holden – i used to write him letters .. nevermind – and te person was like "are you insane? that kid was a psycho" … eeeehhhmmm… i never saw it that way, and since then i had to argue with a lot of people because they all share the same idea… i don't know. It's weird, because his character opened my eyes to so much when i read the book, i cannot understand why people hate it so much, maybe they don't want to hear what the character has to say and that's why they hate him so much…
 Beautiful Creatures by Kami Garcia & Margaret Stohl
So, yeah… my last one isn't a character but a series … i think this is sort of cheating but nevermind.
I'm one of the few people that actually really likes this series (?) … because of a bad second book a lot of people stopped reading the series, and i feel like it's a shame because the third book and the forth one are actually really good books and they are missing a lot because of a bad sequel… and i know it was bad, i'm not saying it's not… but really, give it another chance, because it gets so much better! and i'malways trying to tell people this, but once again, i don't have many readers around in myreal life, so … let me tell you, these books are good, sure the second one wasn't great, but then it's so much better, so good… so good…!!
Anyway, those are my choices for this week's Top 5 Wednesday, what are yours? share yours in the comments and you are more than welcome to link your own post!
'Til Next Time 😉