Monday's here, which means i'm bringing you once again this section, where i talk about Books, Shows and Movies i've read/seen a while ago but because of reasons i haven't talked about them in the blog before.
Here i'll review mostly from the feelings and impressions these left in me back in the day and what i can remember to this day.
And now… let me intruduce to you the book i want to talk about today!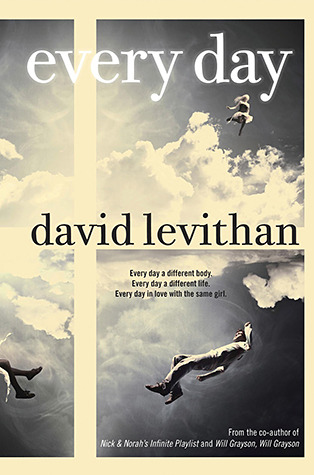 I cannot remember the day i became obssessed with having the book, but i do remember very much the day i started reading it. My sister was coming back from USA and i had to go get her from the airport. Little did she expect my non reaction to her finding me reading the book instead of waiting for her in the waiting space (or whatever should i call it…).
I've been waiting for so long to get my hands on the book i was so happy to finally read it nothing else mattered until i finished it.
The story is kind of weird, a *person* that every morning wakes up in someone else's body, each day a different person, but the same soul (i guess…).
The thing is, it's never the same person twice, so it's tricky to have real friends, not that A'(the name the main character gave him/herself) cares much about it. Since A' was little A' decided to not do something that would change the lifeof the person he/she was habitating for the day.
This, obviousy until one day A' meets a girl, Rhiannon, and falls in love with her while habitating the body of her boyfriend. From that moment A' will go distances to keep in touch with hereven though he/she keeps changing bodies.
The thing i liked the most about this book was not only the dynamic the book has and the creativity of the story, but the fact that when A'and Rhiannon start to get closer, it becomes much a deeper issue that just being able to meet each other. As seen in the companion of this book Another Day, it's about what we love in the person we like, because Rhiannon has a lot to understand and decide while thinking about A', what if when A' appears next time he/she is a girl's body? does she love A' only because she think about A' as a boy? is A' either a boy or a girl?
I think this is a great book that can make people think about what really matters in love.
The book has some unanswered questions, that for me were a little annoying, but apparently a sequel to Every Day will be coming our way some day (…that should be the name of the book too..
I really don't know hwat to really expect since the companion took about three years. Which reminds me that of the second book i got an arc last year, and i was the happiest person around. Even though it was only the same story told by Rhiannon. It still was interesting and even deeper than the previous book.
I will always wonder how could David Levithan think about all the stff going on the story and the characters feelings, because it's so out there, so many things i would've never thought about it it wasn't because of the book.
OH! I almost forgot to say that last year i got to meet David Levithan and had the chance to tell him how important this book was to me, because i loved it so much and i loved A' so much, i just couldn't. And it was so amazing. Truth be told, it was in London, and i had with me my Every Day book when i traveled and it has an accident on my suitcase, but i gave it to David so he could sign it anyway, so even though it looks terrible i'm never getting rid of the book! my precious!
Well, i also bought a copy of Another Day, but it didn't make it there with me, it just came back with me … it's signed too :d
However, if you hadn't read these books yet, you can choose to read only one of them, whichever you prefer, or you can read both, but i recommend you give them a chance, because they are wonderful 
.
Happy reading!