So, here's the time of the month when i talk to you about the books i read last month, only last month was really slow because i was suffering from a huge slump after finishing Half Lost, and i couldn't find a book to get me out of it. I mean, yeah, i read some books but it wasn't much. Still,  i did manage to read, so at least there's that.
---
 Half Lost by Sally Green ♥♥♥♥♥♥
The last installment in the Half Bad trilogy, there isn't much i can say about this book without spoiling the plot of the book, so i'll just say that i loved this book very much. I'm aware many people aren't happy with the ending, but for me it was really good. I talked about it in my review of the trilogy, you can read it [here].
 City of the Beasts by Isabel Allende ♥♥♥♥
Magical Realism meets the Amazonas in this interesting and attractive story. Full of magic and myth, the book takes you into the biggest jungle in the world where you'll find amazing characters and stories. Although i liked the book i'm not sure i'm interested on keep reading the whole trilogy… i don't know… I wrote a full review for the book, you can find it [here] .
 I Wrote This For You by pleasefindthis ♥♥♥♥
I think this is a sort of poems book or someting, it's a weird and actually beautiful reading. I really enjoyed this, as it is full of thoughts and interesting photos and ideas. Pretty unique and simply amazing… I'll be writing more about it soon…
 This Book Loves You by PewDiePie ♥♥♥
To be honest, i never watched any video by him, but i hear this book was pretty great and fun, so i gave it a chance.. It was't the most amazing thing in the world, but it was a fun and easy read. It is full of quotes and funny photos… i guess fans of PewDiePie would enjoy it more than a person that doesn't know him, so i won't say i don't recommend it… it just wasn't that much for me.
 Wink Poppy Midnight by April Genevieve Tucholke ♥♥♥
Another book full of magical realism and such. This book tells the story of three teenagers whom paths interwine. The story starts interesting, but at some point because the plot isn't very clear it became a little boring and i lost interest. Anyway, i managed to read the whole book.. I posted my review, you can find it [here].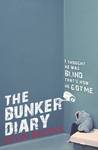 The Bunker Diary by Kevin Brooks ♥♥♥♥
I'm just… this is nothing like the books i read in the last time… it was so full of suspence and so intense… i have no words to describe it. Written as diary entries, it tells the story of six people trapped in a bunker by some psycho of whom they know nothing. As i said, it was so intense, i cannot stop thinking about it. Great reading, loved it a lot! I'll be posting my full review really soon.. look forward to it!
 The Raven King by Maggie Stiefvater ♥♥♥♥♥♥
OMG, this book. So I managed to finish this book in about two days (if it wasn't for my job… T_T…) and it was so good!! I cannot talk about the plot much without giving spoilers, because it's the 4th book in the series (and the last) but it was amazing! I'm so happy i got to read it. The review (with some spoilers) will be published pretty soon, so stay tuned!
 Poe Dameron#1 by Charles Soule, Phil Noto (Illustrator) ♥♥♥♥
A new comic series, about Poe Dameron from Star Wars The Force Awakens… in the comic Poe is sent by General Organa to find Lor San Tekka. I guess it will develop to some interesting places .. i'm looking forward for the next issue.
 Classic of the month – Hamlet by Shakespeare ♥♥♥♥
As i said before this month, while reading it… i liked this better than Macbeth. To be honest it was kind of interesting, the way things happened like WTF, so many WTF moments in this play.. it was totally epic. I don't really know what to say, i just really enjoyed it, go check it out!
Wait a minute … did i give 6 starts to Half Lost and The Raven King? … Well, yes i did… in case you wanna know why, it's pretty simple. Since those books were so good in my opinion and became favorites in an instant i figured 5 stars didn't give them the credit they deserved. It wasn't a mistake, they were just amazing!  6 stars!
And that dears, it's all the books i read this month.. for a month that i was sort of in a slump, it was kind of okay… some of the books took me ages, some of them i finished in a day… but i read some incredible endings to some amazing series! (Half Bad and The Raven Cycle)…
Great, great books!
Happy Reading!
Clems.