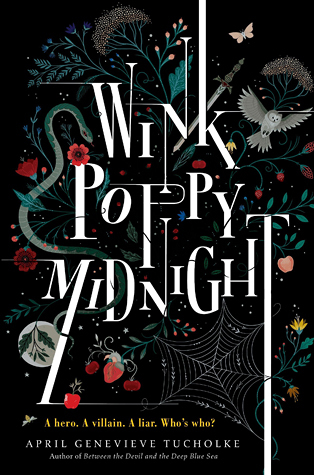 Wink Poppy Midnight by April Genevieve Tucholke
Genre: Young Adult, Mystery, Contemporary
Pages: 247
Publisher: Dial Books
Rating: 3 stars
Summary: Every story needs a hero.
Every story needs a villain.
Every story needs a secret.
Wink is the odd, mysterious neighbor girl, wild red hair and freckles. Poppy is the blond bully and the beautiful, manipulative high school queen bee. Midnight is the sweet, uncertain boy caught between them. Wink. Poppy. Midnight. Two girls. One boy. Three voices that burst onto the page in short, sharp, bewitching chapters, and spiral swiftly and inexorably toward something terrible or tricky or tremendous.
What really happened?
Someone knows.
Someone is lying.
My opinion on the book:
Wow, this was a weird book, weird.. in a good way, really.
So, i wasn't about to pick this book up because of the weird name really (guilty as charged), but a blogger i follow (i cannot remember who right now, so sorry!!), recommended it and said it was magical realism. Maybe if i hadn't read City of the Beast before i wouldn't read it, but i enjoyed the magical realism there and decided to give this book a chance.
Now, what can i really say about the book? I enjoyed very much the way the author writes, she has a wonderful way of making the words flow, the story is beautifully narrated.
The only problem i had with this was the fact that despite having three narrators and the beautiful way it was written, they all sounded the same.All the narrators sounded exactly the same, same, same, at moments i couldn't remember which was the one talking.
I loved the way all the characters had such peculiar names, ones that you'll be remembering for a while, Wink, Poppy and Midnight are really neat names.
I had a weird time reading the book, at first i was devouring it, after about 50-60 pages it suddenly became a little boring, and i wasn't even sure what the plot was about. I kept reading mostly because the story has a nice flow and it's an easy reading. Towards the end of the book, it became interesting and the plot developed well, so i was ultimately satisfied with the book.
To be honest, i cannot recall reading any other book quite as this one, it's was different and bold, which i really liked. Although i don't think everyone would enjoy it.
Now, i just want to say that the cover i beautiful and haunting and it made me think the book was completely different from what it really was.
Overall, it was a nice way of keep me reading through my slump, the book was easy and i felt drawn to it, the characters are pretty interesting, but i couldn't feel a connection to them, i didn't like them very much … anyway, since i really liked the writing i may give the author's other books a chance.
'Til Next Time 😉
Clems.