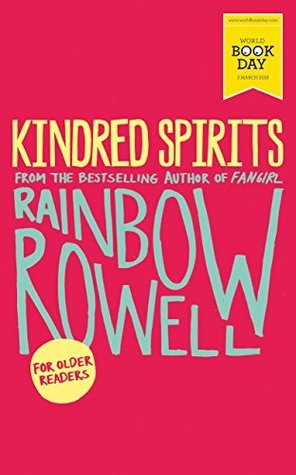 Kindred Spirits by Rainbow Rowell
Genre: YA, Contemporary, Short Story
Pages: 96
Publisher: Macmillans Kids UK
Rating: 5 stars
Summary: 'Everybody likes everything these days. The whole world is a nerd.'
'Are you mad because other people like Star Wars? Are you mad because people like me like Star Wars?'
'Maybe.'
If you broke Elena's heart, Star Wars would spill out. So when she decides to queue outside her local cinema to see the new movie, she's expecting a celebration with crowds of people who love Han, Luke and Leia just as much as she does. What she's not expecting is to be last in a line of only three people; to have to pee into a collectible Star Wars soda cup behind a dumpster or to meet that unlikely someone who just might truly understand the way she feels. Kindred Spirits is an engaging short story by Rainbow Rowell, author of the bestselling Eleanor & Park, Fangirl and Carry On, and is part of a handful of selected short reads specially produced for World Book Day.
(Summary from Goodreads.com)
My opinion on the story:
This is a short story about a girl waiting for something she really likes and wants to be part of. I'll never stop being amazed by how great Rainbow understand fangirls/fanboys. She just knows how to deliver something that will totally talk to you, personally. This story isn't the exception, obviously.
The characters felt so real, eve nif the story is short and there isn't much character development, they were so alive.
The story unfolds slowly and nicely, i honestly could have read a whole book about these characters and the situation, because the words felt so right and on place.
The ending was one of the greatest things i've read in a while, i laugh so much and teared up a little, because it was so wonderful.
Overall, there isn't much to be said about this story, it was a wonderful reminder of how great Rainbow's writing is, easy and full of heart, super enjoyable, fun and youthful. Ienjoyed every second of the reading.