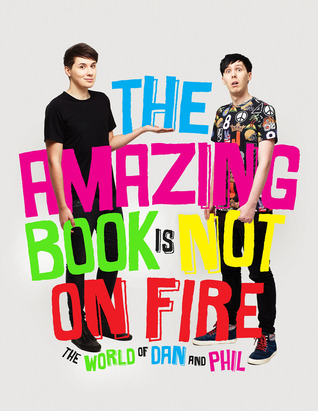 The Amazing Book Is Not On Fire by Dan Howell and Phil Lester
Genre: Humor, Non-fiction, Autobiography, Memoir
Pages: 224
Publisher: Ebury Press
Rating: 4.5 stars
Summary: Hello reader,
In this book is a world. A world created by two awkward guys who share their lives on the internet!
We are Dan and Phil and we invite you on a journey inside our minds! From the stories of our actual births, to exploring Phil's teenage diary and all the reasons why Dan's a fail.
Learn how to draw the perfect cat whiskers, get advice on what to do in an awkward situation and discover which of our dining chairs represents you emotionally. With everything from what we text each other, to the time we met One Direction and what really happened in Vegas…
My Opinion On The Book:
Okay, so honest time; before i read the book i'd never watched a video made by any of them. Obviously i knew who they are, my tumblr is always full of gifs and art of them, but lke never really thought it…
Now, after reading the book i'm pretty obsessed with them.
So let's talk about the amazing book, yep i went there.
The book is a recount of their experiences before becoming youtubers and their lives, all the crazy stuff that happened since then, ideas they have, little moments, fics they wrote, etc.
The way the stories are put, all the stuff they share in the book is pretty great. I enjoyed their way of writing, their styles … they are hilarious. But they also talked truthful, i mean… by reading the book you can feel the way they truly invite you to see a little more deeply their world.
I was greatly impressed by the way the book was presented, the photos and their ideas were incredible, also it gave me hope that one day if you make things because you really love them you can truly succeed. I learned and enjoyed it a lot.
In my opinion any person can read and enjoy this book, even those of us that don't know them, the book is so self explanatory by the end of it you'll feel as if you knew them a long time.
It is totally one of the craziest, funniest books i've read in a very long time!  Great reading!!
Now, if you haven't watched their videos, this is the moment my child, you go to check AmazingPhil & danisnotonfire what the heck are you waiting for?!
*the gifs do not belong to me but to their rightful creators, sorry i don't know how they are and i can't give them full credit :(, if they're yours please let me know so i can give you the credit.