Trigger warning! This review is, yet again about a very sensitive topic, school shooting. I once talked about a book like this in y review of the book; [endgame]. Because i don't know how criticial this topic may be to many people i decided to warn you about it before i start talking. So, please, if you know this is a difficult topic you don't want to know or read about, move on, don't read this. If you know you can handle the topic and you want to read my review, please go ahead.
I hope you make the right decision for yourself,
Thank You.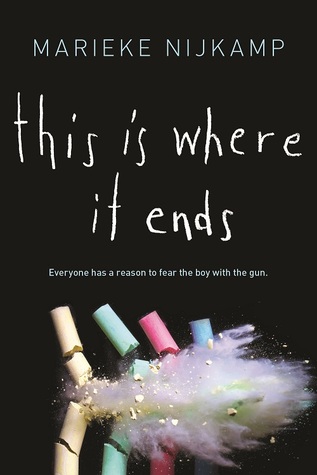 This is where it ends by Marieke Nijkamp
Genre: Realistic Fiction, Young Adult, Contemporary
Pages: 292
Publisher: Sourcebooks Fire
Rating: 4 stars
Summary: 10:00 a.m. The principal of Opportunity, Alabama's high school finishes her speech, welcoming the entire student body to a new semester and encouraging them to excel and achieve.
10:02 a.m.
The students get up to leave the auditorium for their next class.
10:03
The auditorium doors won't open.
10:05
Someone starts shooting.
Told over the span of 54 harrowing minutes from four different perspectives, terror reigns as one student's calculated revenge turns into the ultimate game of survival.
My opinion on the book:
Told by four different people, all of them know the shooter and all of them know they should be afraid. 
When i decided to read this book i knew the topic was a very difficult one. I've been reading about real shootings and some fictional ones for a while now, but i got to say, this wouldn't help you get through the book.
The story is pretty simple, a kid decides to take revenge on the people he feels had wronged him and he is to shoot everyone. As the story develops we learn about what happened, what the characters telling what's happening think about the reasons that brought to the very moment Taylor started shooting.
Written raw and emotional, the book got me hooked from the very begining. The account of the sotry is minute to minute, each chapter is told by different perspectives and in different places, as some of the kids are trapped with the shooter some others are trying to save those who are in danger.
Personally i was very pleased by the deeps of the characters, their diversity and how well the author created so alive and real characters. You feel the emotions they are feeling all the time. The anxiety it made me feel at times was amazingly real, i just wanted to get there and help these people.
Also, i liked the way the shooter was portraited, he was human and he was suffering, but he was making some terrible bad decisions, and that felt credible to me. The hopelessness, the fear of being alone, it all wrapped up to destroy a kid and thus, have him destroying others'.
I think that overall, the book and the story were very well handled and portraited. I enjoyed and suffered when reading it. I think people should, if they can handle the topic, at least try to read it, because it's veyr powerful and it will make them think a lot about these kind of situations that happen more than one would want in our world.
I give it 4 starts, but i can't remember why i didn't give it more,… so before i finish writing this i'll give it 4.5 stars instead.
And that's all for now,
'Til Next Time 😉
C.