I know i'm late to the party, but i forgot i was suppose to write this review a while ago, … I read the book back in October, when it was published and since then i wanted to write an opinion on this book…So, let's do this!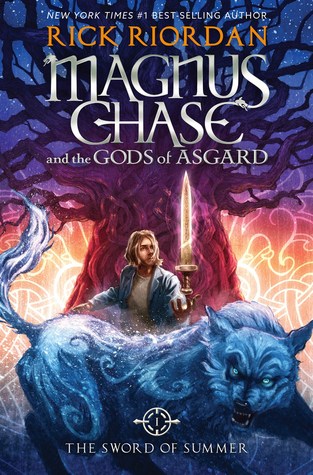 The Sword Of Summer by Rick Riordan
Genre: Fantasy, Mythology, YA, Middle Grade
Pages: 528
Publisher: Disney – Hyperion Books
Rating: 4.5 stars
Summary: Magnus Chase has always been a troubled kid. Since his mother's mysterious death, he's lived alone on the streets of Boston, surviving by his wits, keeping one step ahead of the police and the truant officers.
One day, he's tracked down by a man he's never met—a man his mother claimed was dangerous. The man tells him an impossible secret: Magnus is the son of a Norse god.
The Viking myths are true. The gods of Asgard are preparing for war. Trolls, giants and worse monsters are stirring for doomsday. To prevent Ragnarok, Magnus must search the Nine Worlds for a weapon that has been lost for thousands of years.
When an attack by fire giants forces him to choose between his own safety and the lives of hundreds of innocents, Magnus makes a fatal decision.
Sometimes, the only way to start a new life is to die . . .
[summary taken from GoodReads]
My opinion on the book:
First of all i gotta say, Rick Riordan is one of my favorite authors, i love the way myths and gods come to life in his books. And i know many people think that he is just recycling the success he had with the Percy Jackson series, re-using the idea of ancient gods and such, but that's the thing with his books, although they have the 'same lines' they are so different from one another, it's amazing.
This time the book is about how Magnus Chase, Annabeth's cousin discovers when dying that he is the son of Nordic God, Valhalla and all the other worlds described in the Nordic mythology exists and he has to retrieve his father's sword.
[It will take a while until you discover who Magnus' godly father is, but please don't check it up before, it won't say much anyway…]
I don't want to get all spoilery, in case you haven't read the book yet, so i'll just skip to my opinion of the book in general and won't describe the things that happen…much.
The thing i enjoyed the most in the book were the three companions Magnus had in his journey; Sam, a young muslim girl, still going  to school who also has a part job as a valkyrie, i believe she is also a demigod, daughter of one of the Nordic Gods. Blitzen, a dwarf that studied fashion at school and dreams of having his own boutique. And last but not least, Hearthstone, a deaf elf, who wants to be able to use magic, which was lost with time, as the worlds developed toward electricity and such…
The fact that the characters are more than the stereotypes you expect for them is one of the things i appreciated the most on the book. So Sam is muslim and Hearth is deaf, but they are both so much more than that, along the way we learn about the sacrifices the characters had made, and it just makes them even greater.
And so,  Magnus begins a journey, that will take him and his friends to many unexpected places and people. On the way, the four become a sort of a family, they deeply care about each other, which i found refreshing, finally a book that doesn't have to include romance for it to be great.
The way the book is written, as many other of Rick's books is very *friendly*, by this i mean that kids will find it attractive and easy enough for them to want to read it, while still not being/feeling to childish to older people.
Overall, the book is a fun reading, it has though a little too much information for the reader, mostly because many of us aren't very familiar with the Nordic Mythology, so at times it may get a bit confusing.
In my opinion, it was one of the finest books of the year, it was even chosen as the best middle grade&children book of 2015 in GoodReads.
The second book on the series, The Hammer Of Thor will be published October 4th 2016 so stay tuned!