I got an arc of this book from NetGalley in exchange of a honest review… once again, here we go then;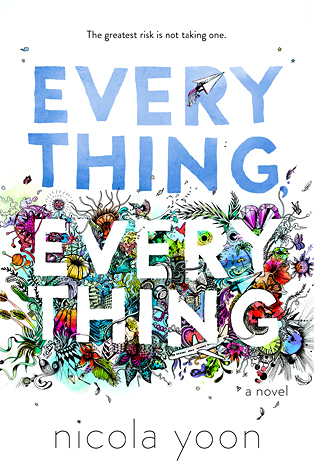 Everything, Everything by Nicola Yoon
Genre: YA, Contemporary, Romance
Pages: 320
Publisher: Random House Children's
Rating: 4.5 stars
Summary: This innovative, heartfelt debut novel tells the story of a girl who's literally allergic to the outside world. When a new family moves in next door, she begins a complicated romance that challenges everything she's ever known. The narrative unfolds via vignettes, diary entries, texts, charts, lists, illustrations, and more.
My disease is as rare as it is famous. Basically, I'm allergic to the world. I don't leave my house, have not left my house in seventeen years. The only people I ever see are my mom and my nurse, Carla.
But then one day, a moving truck arrives next door. I look out my window, and I see him. He's tall, lean and wearing all black—black T-shirt, black jeans, black sneakers, and a black knit cap that covers his hair completely. He catches me looking and stares at me. I stare right back. His name is Olly.
Maybe we can't predict the future, but we can predict some things. For example, I am certainly going to fall in love with Olly. It's almost certainly going to be a disaster.
(Summary taken from GoodReads)
My Opinion on the book:
Let's be honest, i chose this book because i really loved the cover. It looked so pretty and promising. I wasn't disappointed.
In the beginning of the book we meet Madeline, a girl who is sick, and who has being apart of all the world (except for her mom and nurse) all her life. A dull and boring existence until a new family moves next door and on some weird way her and the boy next door start a friendship.
The relator of the book is Maddy herself, and it includes some lovely additions as drawings and charts and stuff that made the whole story much more alive.
The thing that i loved the most in the book, i think, is that you could totally believe this is a teenager girl telling her story, not some adult pretending to be one. It felt very real. And made the experience a lot funnier.
In addition to all the stuff the story was so entertaining, it's rhythm wasn't fast or slow, it developed the best way possible, always giving enough to keep you reading but not rushing things up. Actually it was difficult putting down the book, even to eat. I had to keep reading and knowing what happens next.
I don't want to spoil anyone, because i think this is a book that everyone should read and could enjoy, but i gotta say that the romance in the book was very tasteful, it felt right and natural, two teenagers falling in love. The way Maddy described her feelings and emotions felt real and reminded me my own experience of falling in love for the first time.
Although a pretty important detail of the story was something i expected somewhere in the middle of the book (or maybe it was wishful thinking) it was presented in a very good way. Maybe it should have had a bit more foreshadowing, but it was fine anyway.
Also, i want to say that the ending of the book (without giving anything away) was a very satisfying one, really, adorable.
So, in conclusion, this book is a very entertaining one, i'm pretty sure YA readers can enjoy it very much, i recommend you give it a chance, it will be worth it.