I was really lucky to get an advanced copy of this book to read on NetGalley, in exchange of a truthful review, so, here we go!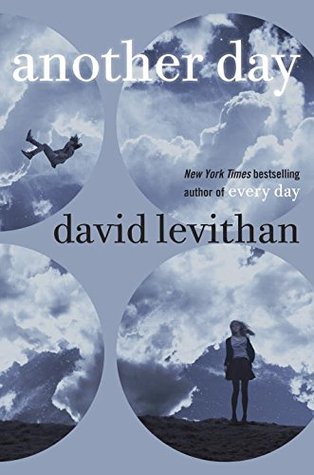 Another Day
Genre: YA Contemporary
Pages:  300
Publisher: Random House Children's
Rating: 5 stars
Summary: Every day is the same for Rhiannon. She has accepted her life, convinced herself that she deserves her distant, temperamental boyfriend, Justin, even established guidelines by which to live: Don't be too needy. Avoid upsetting him. Never get your hopes up.
Until the morning everything changes. Justin seems to see her, to want to be with her for the first time, and they share a perfect day—a perfect day Justin doesn't remember the next morning. Confused, depressed, and desperate for another day as great as that one, Rhiannon starts questioning everything. Then, one day, a stranger tells her that the Justin she spent that day with, the one who made her feel like a real person . . . wasn't Justin at all.
My Opinion on the book:
I remember reading Every Day and I remember falling in love with A'.  This book did the same for me, but this time i fell in love with Rhiannon.
Very much as the writer explains at the beginning of the book this is a companion, not a sequel per se. This book is the retelling of what happened in Every Day from Rhiannon point of view. The book can be read even if you hadn't read the previous one, you can first read this one and then Every Day, it's really that simple, this book, as the previous one can be a stand alone, a Wonderful stand alone, or a Wonderful companion, you decide.
One of the things i loved the most about this book is how well presented are Rhiannon thoughts about all that's happening, about A', about what makes us really ourselves, about who you love, how you see others and how others see you. More than once i had to stop reading to think about what those words were actually saying.
Although many may be a little dissapointed by the fact that the story in the book is just the same one from another point of view, i think this makes it more relatable… I know most of us won't be finding a person that inhabitats others' bodies for a day, and so, but hearing the story told by a regular person, it kind of made it more palpable.
Personally i found the book very relatable because of the kind of person Rhiannon is, i mean, i could see myself thinking the way she was through the book. This fact made the whole experience even more enjoyable.
Also, it ended in a cliffhanger strong enough to make you believe it may get a sequel (i really hope so because it was such an incredible ending!).
In my personal opinion, this book is one of those that you can't find many, because they are so special. One that have so many little wonderful things that will make you tear up, laugh a lot, get angry, get frustrated and get excited, all in 300 pages. This little Wonder made my days while i was reading it, and still makes me smile while remember it…
I recommend this book to all those who loved Every Day, to those who haven't read it, and especially to those who always dreamt of something fantastic coming into their normal, regular lives (me being the first in line).
No doubt this was a heart warming reading, to read asap, it is totally worth it.